We had a wonderful get together yesterday with family and friends. Every year that my parents travel, Pam and Gary come house sit, and we always have a crazy pizza party! And the best way to have pizza.....
on the grill!
Once you try it, you won't want to go back to an oven baked pizza again. It is so much fun to do with a lot of people. Everyone brings the toppings they want, and many different pizzas are created! You could just do a few topping choices, but with our parties, more is better....
toppings
flour
olive oil
rolling pin
*get the coals started in the chimney starter
. When ready, place in grill and let cool down a bit. If it is too hot it will char the dough. We found that out the first time we did this.
*Roll out your dough, then brush with olive oil.
*Now carefully transfer the dough to the grill, olive oil side down.
*Brush the topside with olive oil, then cover the grill for a few minutes.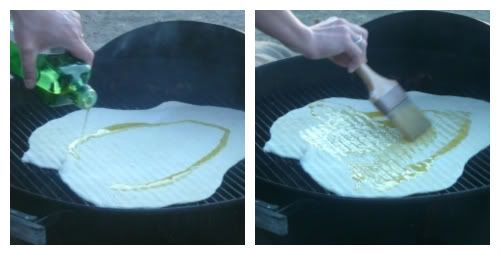 *When dough is bubbly, flip it over and put on your toppings. Then cover for a few minutes until the cheese is melted.
*Here are Allen and Chris working on Allen's favorite: garlic sauce with Corrlitos sausage, cooked apples, caramelized onions, feta, mozzarella, and green onions. This is one of my favorites.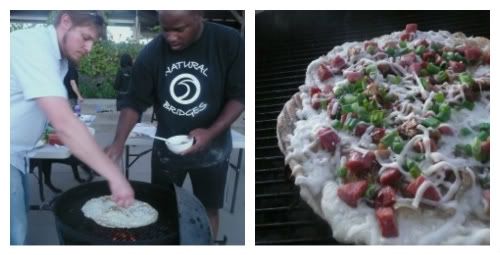 *Carefully transfer pizza to cutting board. Slice it up and watch the crowds come fast!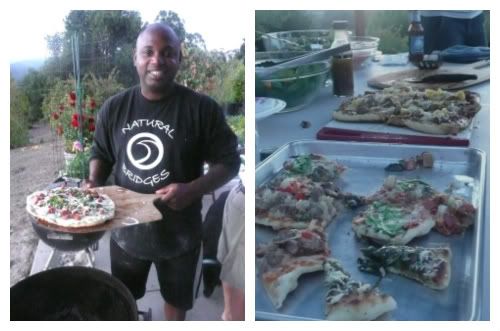 *Here is my brother and his famous BLT pizza. Another of my favorites.
Our children love doing this. For them, it is an art :)
Fire up the grill!
Enjoy!
~Amy
*This post is linked to: